Preventing Identity Fraud - Protect Yourself Now!
Preventing Identity Fraud is Critical!
There are number of things you can do to prevent your identity from being stolen, most of them are simple everyday activities that take no time, however, most people don't tend to think about them. First and foremost, just by learning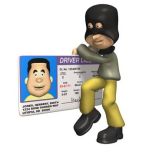 and understanding how identity fraud can happen, and some of the basic things you can do to minimize your risk, you're already ahead of the game! Here are some of the things you can do to help reduce your risk identity theft fraud:
If anyone calls

you claiming to be from your bank, credit credit card company, or some otherwise trusted organization asking to verify your SSN or other personal information, DO NOT TALK TO THEM - hang up! Tell them you'll call them back using the phone number you have on the back of your credit card, or ask them to mail you a form to your house (they should have your address on file already, so don't give it to them). Banks and credit card companies will never call you and ask for this information; they already have it, so don't be fooled!