Prepaid Wireless Survey - Be Heard!
Do you wish that prepaid wireless carriers would just listen to you? The prepaid wireless survey below is for you to be heard! The more people that respond, the more valuable the information will be to carriers and suppliers of no contract related products and services. So please fill in the survey, and don't hold back! Let them know what's on your mind and how they can provide you with better service.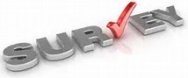 Once I have enough feedback, I'll work to get the information of this prepaid wireless survey to prepaid wireless carriers and other relevant no contract wireless service providers. And believe you me, they want, and NEED your honest and open feedback so that they can spend their money building services that you'll want to buy instead of wasting money developing programs that you don't even like! So please be open, honest, and detailed in your responses. Please note that your name and email address will NEVER be shared or sold to anyone. Of course, if you don't want to provide your name or email, there's absolutely no need to; you can submit your response completely anonymously.
Also, based on the survey responses I've received over the years, I have added additional content to his site to better address your interests, questions, prepaid wireless frustrations. For those of you who have contacted me to thank me, I greatly appreciate your time in reaching out to me!
Home

›
Prepaid Wireless Survey