Mobile Broadband - Keep In Touch With Your Life & Loved Ones!
Mobile broadband truly changed the way we think about connectivity, and has been a hot topic for quite awhile now! There's no doubt that wireless broadband changes the way people access information, and stay in touch with
family, friends, and business. I recall working at a wireless carrier on pricing and positioning of their new highspeed broadband data network. It was great and exciting, however, the problem was that there were no real useful consumer applications to get people excited about it, and the enterprise products were still lacking. Note that this was in the really early days of first generation wireless broadband (1xRTT). We were thinking more along the lines of "if you build it, they will come" mentality. And that was fine for the time. But now...well...now things are really exciting!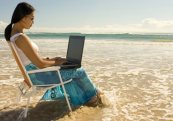 Not only are there services that we want to stay connected with all day like email, stock quotes, weather, travel info, Facebook, Twitter, Instagram, the news, etc., but we expect to have the same full, rich experience that we have on our desktop. There's really no longer any tolerance in terms of people being ok with a basic mobile experience; we want everything we can get while at home or on WiFi, and we want it fast! Well, thanks to the evolution of wireless broadband technology, and sleek hardware like smartphones, affordable laptops & ultrabooks, and tablets, we can have our cake and eat it too! Even more interesting is the availability of prepaid wireless broadband. We can now access all of the things we need and love without signing contracts or paying for services we don't use. Sweet!
Unlike prepaid wireless voice services, where people initially felt (and to some extent still believe) that it is for the credit challenged, the landscape is different for wireless broadband. Most of us have already dealt with voice contracts, or have multiple phones in our household (whether prepaid or postpaid). Now that we also want wireless broadband, we really don't want to commit to yet another expensive device and service plan. Rather than a necessity (like cell phone service), wireless broadband is largely considered a nice to have. While it's certainly a strong want, I feel that we're a lot more picky and cost conscious.
As a result, prepaid wireless Internet was really quite hot from its introduction into the market. People are still hesitant with knowing how much data we need, and how much money we really need to spend to meet our needs. Without signing a contract, we can figure this out, and now that there are so many options, it really is a hot market that continues to grow. And best of all, devices and pricing continue to get better and better.
I discuss mobile broadband topics in detail, including prepaid wireless broadband plans for each technology type, including those listed in the table below. As you're reading through those topics, I expect that one main question will come to mind: "What's the speed difference between these technologies?" So I have a dedicated page just for
Prepaid Wireless Broadband
technology as well. You can also ready about the
Definition of Broadband
to help ground your expectations of mobile broadband in general.