Best MiFi Plans!
Are you excited about mobile hotspots, and discovering the best MiFi plans without a contract (i.e. prepaid hotspot plans)? Fortunately, there's nothing but good news for you, as there are a TON of great options now available. When I first started this page (many years ago!), there were only a couple of offers on the market. Now there are so many that I had to completely reorganized the information to make it easier to view everything!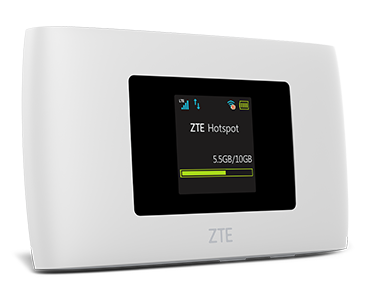 In fact, initially there weren't any prepaid Mi-Fi plans that could be classified as traditional prepaid offerings. You had to basically buy a Sprint or Verizon MiFi hotspot modem at full price with a month-to-month plan. In other words, no prepaid broadband providers offered MiFi devices, leaving you still receiving a bill from Verizon or Sprint! Though to get the month-to-month benefit,you had to pay a lot more for your modem than you would have had to had you signed a one or two year contract.
Fortunately, early 2010 was a sort of prepaid broadband revolution, if you will, that resulted in the major providers (ex. AT&T and Verizon) to begin offering truly prepaid wireless broadband plans. They entered the no contract market due to the incredible demand, as customers continued to shift from postpaid contracts to prepaid, no contract broadband Internet plans. Fortunately Verizon had a postpaid MiFi modem that they were able to offer on a no contract basis. So although the options were limited in terms of evaluating the best MiFi plans, I was confident that the options would continue to increase, and they did! In fact, there are new plans, as well as completely new providers entering the market all the time.
The table below gives you the details of the current MiFi hotspot offerings across the U.S. If you haven't already done so, feel free check out the
MiFi Background
page to learn more about how this exciting mobile hotspot technology works, and its numerous benefits. You can then come back to find the best MiFi plans to meet you personal needs.
I constantly monitor the news, so rest assured that when other prepaid MiFi plans become available, I will update this table within a matter of days (usually hours!), so you can always compare the best MiFi plans available in the market. If you want to keep in touch so you know when this page has been updated, you can subscribe to the RSS feed, or you can sign up for the
Free Prepaid Wireless Tracker
, which includes what's new on this site, as well as wireless news; it's sent out monthly.
Click on a company name to link over to their website to review & purchase.
Provider
Plans
Notes

AT&T



$25 - 90 days (2GB)

Auto Renew Plans:
$15 - 30 days (1GB)
$30 - 30 days (Unlimited)
$50 - 30 days (7GB)


Boost Mobile

$25 - 30 days (1.5GB)
$50 - 30 days (10GB)

Can connect up to 10 devices.
10 hour battery life.
Run on Sprint network.


DataJack

$5/month (100MB+$0.029/MB)
$10/month (250MB)
$30/month (2GB)
$50/month (5GB)

$10 deposit required from which to deduct monthly payment.
Runs on Sprint network.


$0 - 500MB (30 days)
$4 - 500MB (30 days)
$20 - 2GBs (30 days)
$29 - 3GB (30 days)
$35 - 4GB (30 days)
$40 - 5GB (30 days)
$75 - 10GB (30 days)

Free service is NOT backwards compatible with 3G
Extra data for free service = $0.02/MB
Additional data can be earned for free by referring friends or doing surveys
Runs on Sprint network.
Now avaiable at Best Buy!


$25 - 2GB (10 days)
$50 - 5GB (30 days)
$70 - 7GB (30 days)
$90 - 10GB (30 days)

After plan high speed allowance is used, get equivalent amount of data at 128kbps.
Sub-brand of Locus Communications & MVNO of AT&T.
Get the equivalent amount of data in each plan at 2G speeds.


Karma




$10 - 1GB (30 days)
$40 - 5GB (30 days)
$80 - 10GB (30 days)
$100 - 20GB (30 days)
$150 - 50GB (30 days)

Additional Data = $15/GB
$1 credit for every guest that connects to your hotspot.

Pay-As-You-Go:
$3/month + $10/GB
(get credit for unused data)


Runs on Sprint network.
Get free data & cash credits when sharing your hotspot with others.


Hele by Mobi PCS

$30 - 4GB (30 days)
$40 - 6GB (30 days)
$50 - 8GB (30 days)
$60 - 10GB (30 days)
$70 - 12GB (30 days)
$80 - 14GB (30 days)
$90 - 16GB (30 days)
$100 - 20GB (30 days)

Available in Oahu, Maui, Big Island only.

Net 10

$10 - 500MB (14 days)
$20 - 1GB (30 days)
$30 - 2.5GB (30 days)
$50 - 5GB (60 days)
NetZero


$0 - 200MB (30 days)
$18 - 500MB (30 days)
$28 - 1GB (30 days)
$43 - 2GB (30 days)
$64 - 4GB (30 days)
$90 - 6GB (30 days)

Uses Sprint 4G LTE network.
$2.95 monthly access fee except for the free plan.

Ready Mobile



$25 - 300MB (30 days)
$45 - 1GB (30 days)
$75 - 2GB (30 days)



Uses Sprint 4G LTE network.




Read my

interview with Fred Haumesser, Ready Mobile Co-Founder & EVP

Simple Mobile




$25 - 1GB (30 days)
$30 - 2GB (30 days)
$40 - 6GB (30 days)
$50 - Unlimited (30 days)

Exclusively a BYOD provider; buy a SIM card for your unlocked compatible modem, then purchase a plan.
Uses T-Mobile network.
Get a discount if you enroll in Auto ReUp.


Straight Talk




$15 - 1GB (30 days)
$25 - 2GB (30 days)
$40 - 4GB (60 days)
$50 - 5GB (60 days)
$75 - 7GB (60 days)

Uses Verizon network.
Available only at Walmart.


T-Mobile


$5 - 500MB (1 day)
$30 - 3GB (30 days)

Auto Renew Plans:
$20 - 2GB (30 days)
$35 - 6GB (30 days)
$50 - 10GB (30 days)
$65 - 14GB (30 days)
$80 - 18GB (30 days)
$95 - 22GB (30 days)
Total Wireless

$35 - 5GB (30 days)
$60 - 8GB (30 days)
$85 - 12GB (30 days)
$100 - 15GB (30 days)

A TracFone brand sold exclusively online & in Walmart.
Each level up allows for sharing data across incrementally more devices, starting with 1 line only for the $35 plan).


TruConnect Internet On The Go



by

$10 - 500MB (30 days)
$15 - 1GB (30 days)
$20 - 2GB (30 days)


Get an extra 100MB/month when you sign up for AutoPay.
Uses Sprint network.


Read my TruConnect Prepaid MiFi

Review!



Read my

interview with Kevin Hamilton, TruConnect President & CEO

!

Verizon Wireless


$15 - 500 MB (7 days)
$20 - 1GB (30 days)
$35 - 2GB (60 days)
$50 - 5GB (60 days)
$100 - 10GB (60 days)


Millenicom



$90 - 20GB (30 days)

Sold its customers to Verizon in 2014; no longer a relevant brand for prepaid Internet.


Uses Verizon 4G LTE network.

Early Bird Special - 10GB 4G + 10GB 3G for $69.99