Care Wireless Powered by PlatinumTel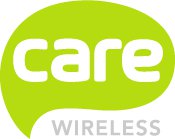 PlatinumTel is an interesting prepaid wireless provider as they are not only an MVNO of Sprint, but also participate in the Lifeline free cell phone service program under the brand name Care Wireless. PlatinumTel started service in 2001 and continues to provide a variety of no contract plans and phones, including Android smartphones. They're still considered to be a very small player. I hesitate to call them a niche provider, as that usually implies a uniquely positioned brand. However, to be honest, I don't understand who they're targeting, or their specific company value proposition. Please don't get me wrong, that's not to say they aren't a great provider; they just haven't built a strong brand identity from what I can tell.
All that said, what's really somewhat puzzling is that they don't own their own network, so they use the Sprint nationwide network. That's not strange in and of itself though. What's odd/interesting is that Sprint already has a Lifeline program run by its Virgin Mobile brand called Assurance Wireless. These two programs (Assurance & Care) are very similar. Why the Federal government would approve multiple very similar programs that even run on the same network is currently beyond my understanding.
Anyway, what this ultimately means is that prospective customers have more options, which is a good thing! Now let's review the details of the Care Wireless powered by PlatinumTel program:
Who Is Eligible?

No one in your household can currently be receiving Lifeline wireless or landline free service.
You must have a valid U.S. postal address; P.O. Boxes are ineligible.
You need to currently be receiving one of the following government assistance programs:

Food Stamps
Medicaid
Federal Public Housing Assistance
National School Free Lunch Program
Bureau of Indian Affairs Programs
SSI, TAMF, or LIHEAP
Household income is at or below 135% of the Federal Poverty Guidelines (their website has a table showing what these incomes are)
You must live in Illinois, which is the only state that PlatinumTel offers the Care Wireless Lifeline program for the time being.
What Wireless Services Are Included?

Free phone
300 minutes per month (or 750 text messages); 1 minute = $0.05, 1 text message = $0.02 (monthly account allowance = $15)
Voicemail
Caller ID
3-Way Calling
Nationwide Long Distance
Where Can I Get It?

One thing that's great about the way Platinum Tel is running this program is that they have a number of different ways to enroll, which has been lacking in other programs. You can enroll online, by phone, by fax, or by snail mail. Visit the
Care Wireless Enrollment
page for all of the details.
What Else Should I Know About Care Wireless?
If you need more minutes or texts, you can add money to your account using any PlatinumTel topup cards that range from $10 - $100 with varying expiration dates.
Expect to re-qualify each year, so lookout for the required paperwork to avoid being disqualified from the service! You can also use their Annual Online Verification form. If I were you, I wouldn't wait for them to reach out to me to re-verify each year. Put your annual date on your calendar, and use their online form well before the year is up to ensure that you don't lose service.
Only the designated Care phones will work, so don't waste your time trying to get a better/different phone that is technically compatible with the Sprint network.
Overall, although differentiating one Lifeline service from another is getting increasingly more difficult, Care Wireless Assistance is a good solid option if it's available where you live. For information on other Lifeline programs that may be available to you, head over to the
Free Cell Phone Service Introduction
page.