Free Prepaid Cell Phone - Do You Qualify For SafeLink?!

Are you looking for a free prepaid cell phone? Do you qualify as having low income and are looking for a FREE cell phone including airtime and text messaging? SafeLink Wireless was one of the first companies to offer Lifeline service, which is a government sponsored program. It provides free cellular phones and service to "income eligible" households. There are no contracts, no fees, no monthly charges; there really are no strings attached at all! You simply have to legitimately qualify.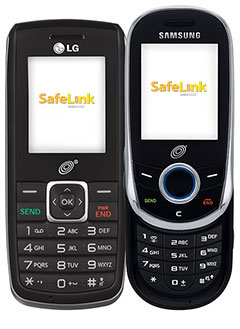 Do I qualify for SafeLink?
Note that while the actual qualification process can vary by state, there are general qualifications that remain consistent to qualify for this, and other similar programs:
You're already on State or Federal assistance. For example, Federal Public Housing Assistance, food stamps, or Medicaid.
OR
Your total household income is below 135% of State and/or Federal government guidelines.
AND
No one in your household already receives Lifeline service through another wireless carrier (this includes landline programs as well). Be mindful that the government has started cracking down on abuse and fraud, so making sure all of your information on the application is 100% valid will help to improve your chances experiencing a smooth application process.
You must have a valid USPS (United States Postal Service) address. In other words, you must live somewhere where you can receive mail, as they will send the phone to that address. Also note that P.O. boxes are not allowed.
What are the benefits?

You get a free phone
Free fixed number of minutes each month automatically added to your account
No contract
No fees
No monthly charges
Unused minutes rollover each month (except for the 350 plan, which only rolls over if you purchase additional minutes)
When you stop the SafeLink service, you can keep the phone
What other services are included?
Caller ID
Call waiting
Voicemail
Roaming
Long distance
How many free minutes and text messages do I get each month?
SafeLink currently offer three different plans:
Option 1

: 350 minutes - no rollover (unless you purchase additional minutes), unlimited text messages.
Option 2

: 125 minutes - with rollover, unlimited text messages.
Option 3

: 68 minutes - with rollover, unlimited text messages, and includes international long distance to over 100 locations.
You get your monthly minute allocation within the first three days of each month. Keep in mind that your phone must be powered on in order to receive your free minutes. If you happen to not receive your minutes on a particular month, you can follow the Free Pending Minutes Retrieval Instructions on their site. I've also pasted them here for your convenience:
Press the MENU key.
"Prepaid" will be displayed across your screen.
Press OK or SELECT.
Go to "Redeem Airtime" or "Add Airtime".
Press OK or SELECT.
If your screen displays a message, go down and press OK until you see "Card #" or "Airtime PIN".
Enter 555 and press OK.
If you are prompted for a promo code, press NO.
What about toll free numbers?
Toll free calls are actually not included, and are charged at the normal per minute rate, including calls to Lifeline and TracFone customer service. So if you're going to call their customer service, if possible, you should try to call from another phone or landline.

Can I trust this company?

You may be wondering whether the SafeLink free prepaid cell phone service is good, or just some fly-by-night operation. Or, will you have coverage? Will it be reliable? The short answer is yes! TracFone is the prepaid wireless provider behind SafeLink. In fact, TracFone is one of the largest prepaid providers in the U.S., at greater than 10 million customers. They also offer the Straight Talk service available exclusively in Walmart stores. The parent company also owns Net10, another prepaid provider. To learn more, visit the
TracFone Prepaid Cellular
section. The bottom line is that you can have confidence that you're getting a quality service, and will be around for the foreseeable future.

If I run out of minutes, can I add more?

Yes! Because it's a service offered by TracFone, you can actually use any of their wireless topup products. Just visit any store that offers TracFone, and pick up a replenishment card. Also, after finishing with the SafeLink program, they let you keep the phone, so you can go ahead and activate it on regular TracFone service.

Can I use my own phone?
Officially, no, you cannot use your own TracFone or unlocked GSM phone. You must use a phone provided by SafeLink Wireless as part of the free prepaid cell phone program. However, unofficially, there have been plenty of reports that they'll transfer your account to another phone without much hassle. That said, if this aspect is important to you, I would call them first before assuming that it will be possible.
Return to Free Cell Phone Service