C Spire Lifeline Credit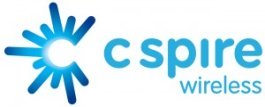 C Spire Wireless offers Lifeline assistance in a form of an account credit. To be honest, prior to researching Lifeine free cell phone service providers, I hadn't even heard of this company! The classic Lifeline assistance programs offer a certain number of free monthly voice minutes, and usually text messaging as well. There is another flavor of this type of program, however, that does not offer free minutes, but rather offers a monthly discount on some or all of their core prepaid wireless plans. Cricket Communications was the first of this type of program, which they logically dubbed the Cricket Lifeline Credit. However, Cricket discontinued that program when it was acquired by AT&T.
The credit offered by C Spire is up to $9.25 per month. That amount hasn't changed since I first discovered this carrier in 2012. That's not to say that the value of the credit won't increase, however, it's certainly not something that changes frequently. My understanding is that the credit value is defined by the Federally sponsored Lifeline organization. Lastly, note that the credit is only available on their postpaid calling plans. They explicitly state on their website that the credit is not available for their pay as you go plans. If they're going to give you a monthly credit, they want to ensure that you're committing to a monthly plan.
Do You Want A Credit Vs. Free Service?
I think that the first thing to ask yourself is whether you want a credit on a plan that ranges from $30 to over a $100 per month, or if you'd prefer to truly have
Free Cell Phone Service
from bigger names like Assurance/Access Wireless and SafeLink Wireless? From my perspective, it's a very different type of person who participates in a completely free program, which also allows you to add money if you need more minutes or more features. People who are getting a credit obviously must be able to afford some degree of minimum monthly payment.
More Options
Often the features between the two types of programs are very similar, though a credit type program may offer you far more flexibility in terms of what plans you can use, as well as what phones you can get. The free programs tend to have very basic, and often described as low quality phones, with limited (and confusing) options for upgrading to a better phone. That said, if you're truly a low income household in need of wireless service, such options may not be top of mind.
How Do I Qualify For C Spire Lifeline Assistance?

They service Mississippi and Alabama only, and you must already be participating in one of the following programs:
Supplemental Nutrition Assistance Program (SNAP)
Medicaid/Magnolia Health Plan/Medicare Part B (No Medicare)
Supplemental Security Income (SSI)
Federal Public Housing Assistance (FPHA)
Low Income Home Energy Assistance Programs (LIHEAP)
Temporary Assistance for Needy Families (TANF)
National School Lunch Program
Income at or below 135% of the Federally Recognized Poverty Guidelines
Also, note that if you're a Native American living on a reservation or designated tribal lands, you can get significantly greater credits!
How Do I Apply?

Even after all these years, the only way to apply is to download their online PDF application form and follow the instructions. They don't advertise an 800 number, and there's no sign of an online application process. I suspect that should their program grow sufficiently large, they will seek additional ways to apply. That said, it's been many years with no apparent move to automation. It's probably not profitable for this small provider to invest in anything but a manual process at this point. You can find their website (and application forms) at
C Spire Lifeline Assistance
.